Social Media's Impact on Youth: Connection to Dopamine
Instagram. TikTok. Facebook. Snapchat. These are just some of the social media sites popular amongst young people today. They post pictures, view comments, shoot videos, and connect with the world using these apps on a day-to-day basis. While such online interactions boost their confidence and make them feel comforted for a short period of time, the long-term effects can change the entire game.
While the initial feeling of opening Instagram on the phone and looking for likes on a recent picture feels rewarding, there are risks associated with the reward. Each time someone gets access to some social media site, the brain releases dopamine, a "feel-good" and highly addictive chemical linked to pleasurable activities, including social interaction and food. 
Social media is designed to be addictive, making anxiety, depression, and even physical ailments more prevalent in individuals. 69 per cent of adults and 81 per cent of teenagers have access to social media, according to the Pew Research Center. 
"When the outcome is unpredictable, the behaviour is more likely to repeat," says Jacqueline Sperling, a psychologist at McLean Hospital who works with youth who experience anxiety disorders. "Think of a slot machine: if game players knew they were going to get money by playing the game, then they would never play. The idea of a potential future reward keeps the machine in use. The same goes for social media sites. One does not know how many likes a picture will get, who will 'like' the picture, and when the picture will receive likes. The unknown outcome and the possibility of the desired outcome can keep users engaged with the sites." 
The effects of dopamine were noticed by a series of experiments conducted by Wolfram Schultz, currently a professor of neuroscience at Cambridge University. Along with his fellow researchers, Schultz placed apple pieces behind a screen for a rat to view. As soon as the rat bit into the food, there was an immediate spike in dopamine levels. 
When users check social media, "compulsion loops" are created, a series of activities that a user repeats to fulfil an activity. Since social media sites create irregularly timed rewards, people are more inclined to visit sites frequently. This process can be compared to gambling. "When a gambler feels favoured by luck, dopamine is released," notes Natasha Schüll, a professor at New York University and author of the book "Addiction By Design: Machine Gambling in Las Vegas."
This is the secret to social media's era-defining success.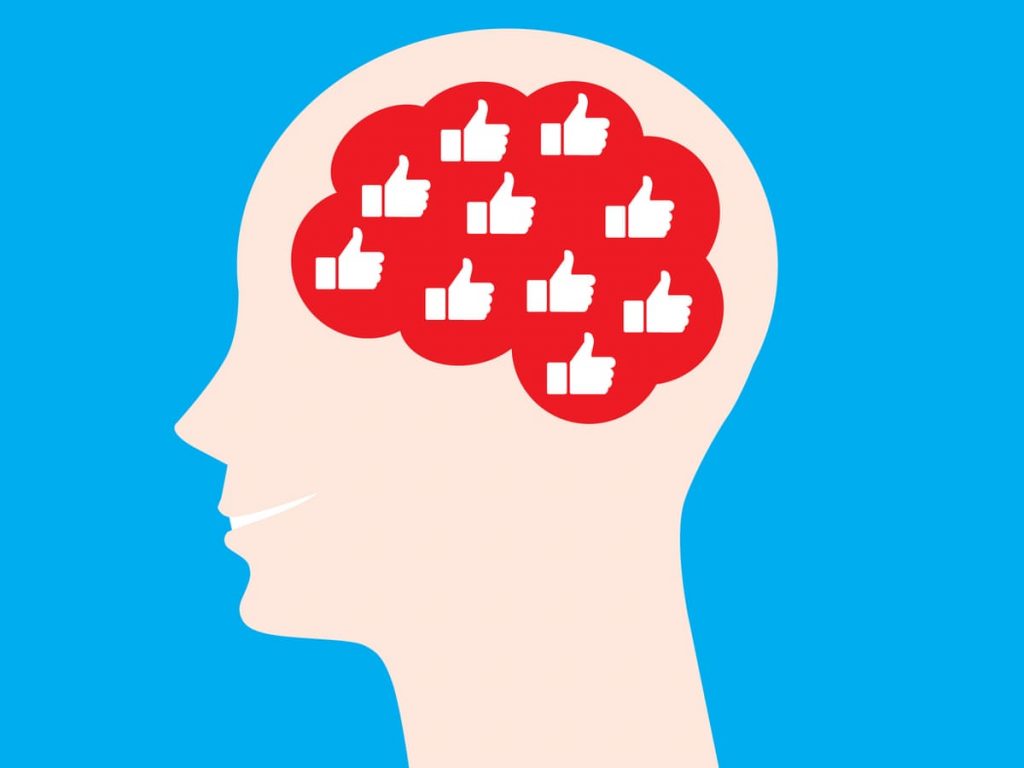 Social Media's Impact on Youth: Fear of Missing Out
FOMO or fear of missing out is another culprit of excessive social media usage. If everyone is using social media, others become concerned that if they aren't doing the same, they're missing out on jokes, connections, or invitations. When people realize that they're missing out on events and experiences, that can cause anxiety and depression. 
This digital age of vulnerability is characterized by people comparing themselves to those around them. For instance, Facebook, Instagram, and Snapchat increase the probability of people viewing unrealistic, filtered photos of others. In the past, teenagers flipped through magazines to view altered photos of models and celebrities. But, today, such unrealistic pictures are one thumb-scroll away. Moreover, it's not just celebrities who look perfect. It's everyone because photo editing and filtering apps can be installed on everyone's devices. 
This takes a physical and mental toll on teenagers since they can't distinguish between real and fake. "Middle school is already challenging for students with all of their developmental changes. As they go through puberty, they're tasked with establishing their identity at a time when the frontal lobes in their brains are not fully developed and there is a lack of impulse control. All of this happens while their relationships with peers become more important," explains Sterling. "It's a very vulnerable population to have access to something where there is no stopgap before they post or press the send button. I think that's something of which to be mindful." 
Social Media's Impact on Youth: Fostering Personal Connections
While the connection between social media and depression shows a correlation and not causation, studies have shown that causation is the more likely option since depression rates rose in tandem with the rise in smartphone use. Depressive symptoms in teenagers increased by 33 per cent and the suicide rate for girls in the same age group elevated by 65 per cent. 
Experts believe that when young adults use social media to foster personal connections, the connections formed are often less emotionally satisfying, which makes them feel socially isolated. 
"The less you are connected with human beings in a deep, empathic way, the less you're really getting the benefits of a social interaction," says Alexandra Hamlet, a clinical psychologist at the Child Mind Institute. "The more superficial it is, the less likely it's going to cause you to feel connected, which is something we all need."
Research also shows that social media causes sleep deprivation, especially if one views their phone screen in the last hour before they sleep. 60 per cent of adolescents look at their phones before they sleep. Electronic screen blue light interferes with falling asleep, and using social media isn't a relaxing or sleep-inducing activity. 
"You have the intention to check Facebook or Instagram for 5 minutes, and the next thing you know, 50 minutes are gone," observes Jerry Bubrick, a clinical psychologist at the Child Mind Institute. "You're an hour behind in sleep and more tired the next day. You find it harder to focus. You're off your game, and it spirals from there."
Social Media's Impact on Youth: The Solution
So what's the solution? Self-monitoring has worked wonders for many. In fact, a 2018 University of Pennsylvania study found that self-monitoring can change one's perception of social media. A group of 143 undergraduates were randomly placed into two groups: one group that would limit its social media use to 10 minutes a day for certain social media platforms and the other group that would continue with its usual social media usage for three weeks. At the end of the study, it was clear that the first group reported significantly lower depression and loneliness rates. 
Sperling has a tip for parents, too. "Parents frequency of electronics use can set the tone for what is permissible to their children. If you want your children to put their phones down at dinner, that will be more likely to happen if you do the same."
Turning off notifications and setting aside time for family and friends can also better the situation. Not bringing a phone to bed and using a physical alarm clock to wake up will push one forward in this uphill battle.
Works Cited:
​​"The Social Dilemma: Social Media and Your Mental Health." Here's How Social Media Affects Your Mental Health | McLean Hospital, McLean, 9 Feb. 2021,
Miller, Caroline. "Does Social Media Cause Depression?" Child Mind Institute, Child Mind Institute, 10 May 2021.
Parkin, Simon. "Has Dopamine Got Us Hooked on Tech?" The Guardian, Guardian News and Media, 4 Mar. 2018.
Similar Posts –
15 PERSONALITY DEVELOPMENT BOOKS FOR YOUNGSTERS. Click here to read the full article.
EMBRACING VULNERABILITIES: MENTAL HEALTH IN SPORT IS NO LONGER OFF-LIMITS! Click here to read the full article.
Tags: Anxiety Disorders, Anxiety Disorders Affecting Teens and Young Adults, Anxiety in teens, Anxiety in young adults, depression, Depression in young adults, effects of social media, fear of missing out, Mental Health, mental health in media, mental health programs, social media, social media and mental health, social media and teenagers, social media and teens, social media's impact on youth, social networking, youth mental health,
---
---
Similar posts