Fashion and Identity: Evaluating Outward Expression of Self Through Fashion
By: Quenell Redden
Did you know that the way you choose to dress is an artistic way of expressing who you are? That is right, the clothes you have on right now can tell a lot about how you choose to represent yourself in the world. Of course, your identity is much more complex and shaping consistently from the world around you, so it is not the complete picture, but it certainly is quite the snapshot. Fashion varies globally and is a culmination of our individualism, cultures, and societal standards. It is an entity that constantly evolves and, in some cases, repeats itself. Together, we will explore specific ways fashion has changed, the influence our identity has on our style, and why we tend to see fashion trends repeat. As you are reading this article, think about how your identity may influence your sense of fashion. Has it changed since you have aged? How has your society influenced your fashion choices? Let us begin our exploration of the intersection between style and identity.
Fashion and Identity:

Nineteenth to Twenty-First Century Fashion
Over time, fashion has changed around the world. Before the nineteenth century, the style was tied to tradition and societal status. In places like Europe, Asia, and America, individuals of high quality (often referred to as the elites) were easily identifiable based on their high-quality garments. At the same time, other members of society identify by the attire associated with their occupation (Breward 1995). However, moving towards the nineteenth century, there began this overlap between cultures where numerous societies started to adopt a more Western/European centric style of clothing (Breward 2003). This is where we start to see a more individualistic interpretation of clothing (i.e. the cross of fashion and identity) instead of the previous symbolism of status.
It expands further as we move into the twenty-first century. Nowadays, we see an intense sense of self in the styling we wear day-to-day. This change is known as the shift from Classism to Consumerism (Crane 2000). We will explore this identity of self through fashion further in the article, but it should not be that while we do have individualistic styles, there are still instances where we may feel the need to blend in with the masses. Ultimately, our styles are a combination of our identities and our society.
Fashion and Identity: Individuality in Fashion
As fashion progressed towards consumerism, it opened a range of artistic choices that now incorporates individualism. However, this process did not happen overnight and, in some instances, created major divisions between various groups of people—for example, the twentieth-century fashion scene in America. For America, individuality became more prevalent during the 1950s and 1960s when the "teenage generation" began to incorporate "age identity" in combination with musical and "personal preferences" into their style. Later in the 60s and early 70s, Civil Rights and LGBTQ+ movements began to influence fashion. During these movements, many people started to use their appearances to transgress their racial, gender, and sexual identities (Stone, 1965). Overall, these movements played an essential role in shifting from status to individuality in the cross between identity and fashion.
Similar Posts –
Fashion in Early India & China

In countries like India and China, the shift to individualism arises in the twentieth century with the adaptation of Western/European styles. The elites of these countries were the first to become modernized in their dressing. For example, sarees which are traditional clothing typically worn by Indian women, became modernized when elite women began to pair their sarees with full and half sleeve Victorian blouses. Additionally, they would wear their sarees with loafers and boots. Even the materials of the sarees began to switch to a fabric known as French Chiffon.
Similarly, the fashion for men in India started to evolve. Men began to style their traditional clothing, like a lungi, with a more modernized dress shirt (Raghuvanshi, 2018).
Chinese fashion during the twentieth century underwent similar changes. The upcoming styles (for this period) had the same idea of intertwining Chinese and Western culture. It was the qipao, a modernized Chinese dress, while for men, it was the Mao suit. This suit initiated to have modern comfortability without completely erasing the Chinese military and student uniforms (Adaptations to Western Styles, University of Washington). Thus, demonstrating how fashion can is used as an outward expression of one's identity and cultural values.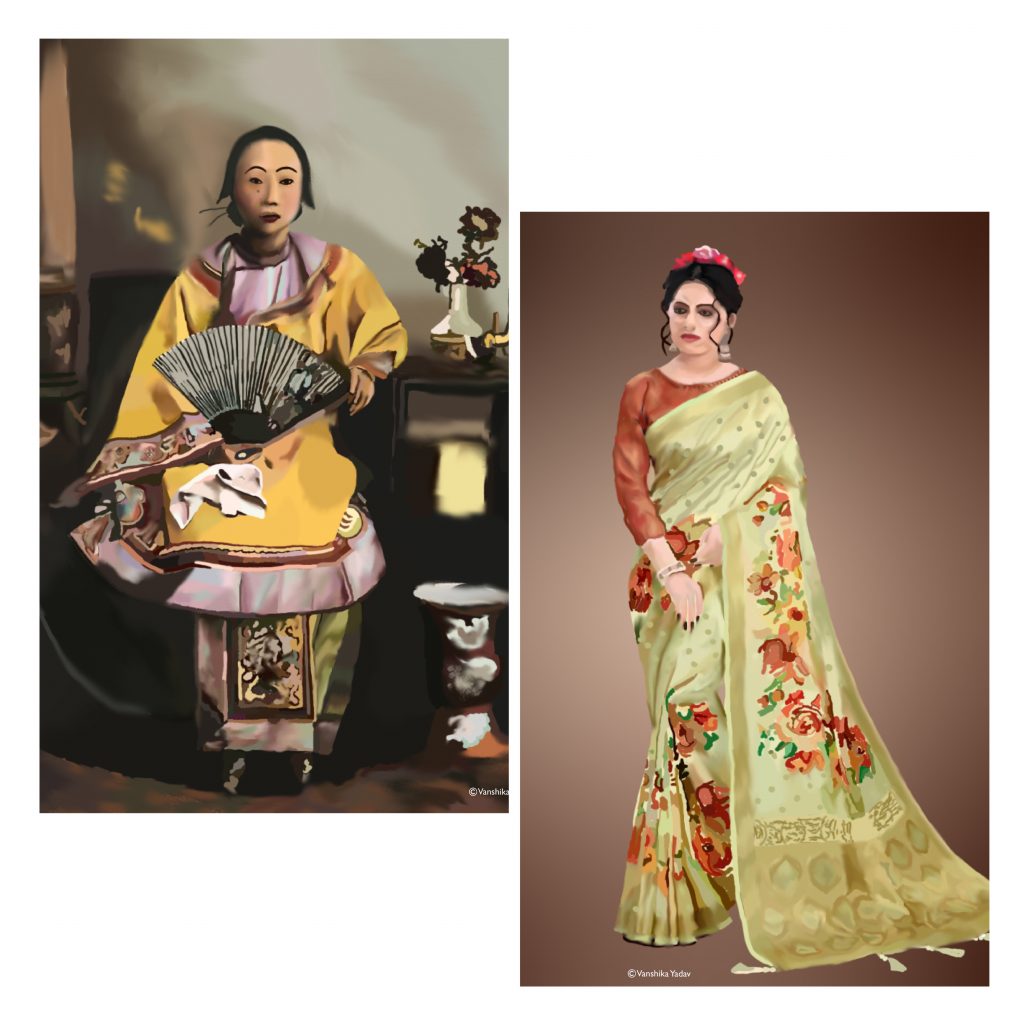 Societal Influences on Fashion
Just as our beliefs are shaped by our environment and those we surround ourselves with, so is our fashion. Society sets standards on what people should wear and, in particular, what constitutes as beautiful or acceptable. There are degrees of pressure to fit in for diverse groups in many contemporary societies, which inflicts a disconnection between one's identity and fashion style. For example, many cultures place high expectations on women to uphold fashion styles and "perfect" body images, serving as a societal pressure (How Fashion Pressures Our Body Image and Sense of Self 2020). Additionally, women of colour, particularly Black and Brown women, experience higher rates of hyper-sexualization in magazines, films, and other forms of media that can sometimes allow women from these groups to feel as though they must fulfil those standards.
On the other hand, teenagers may feel pressured to suppress their individuality to avoid being ridiculed by their peers. Young adulthood is when many people explore various ways to express their identity through their fashion choices, but our societies can create added pressure for those who don't necessarily follow those standards. While we are on the path of accepting individuality and creativity, the difficulties that remain for some people to express their various identities fully can be detrimental. Frequently, especially amongst teenagers, it can result in physical and verbal abuse from fellow peers. However, when there is space for accepting one's identity and fashion choices, it can lead to more understanding and knowledge of one's background.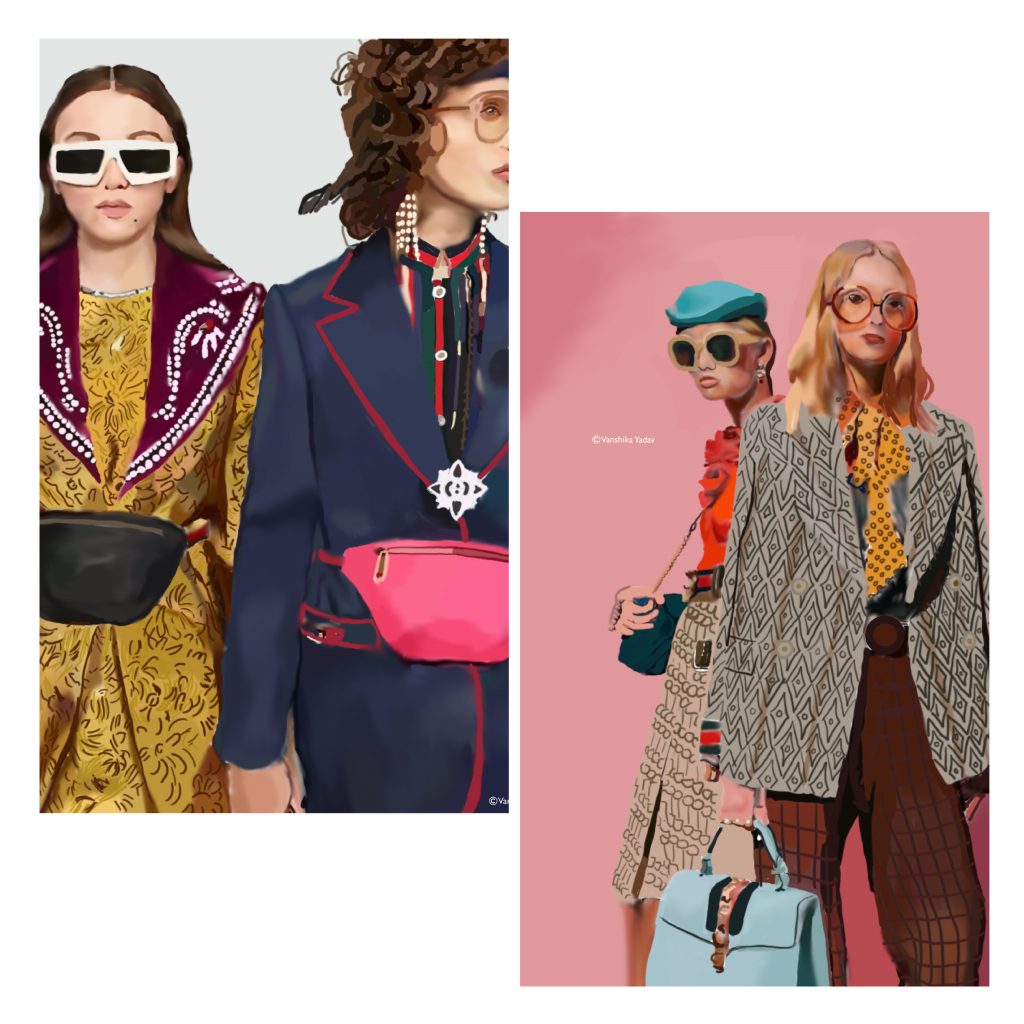 Trendy repeats
You might have heard the phrase "history always repeats itself," well, apparently, so does fashion. Have you ever noticed that some styles people wear today are variations from the 80s and 90s?
In America, trends like crop tops, denim jackets, flannels, and high-waisted pants have come back. It believes that trends typically repeat between 20-30 years. Meaning, in the future, we should expect to see some styles from the 90s and 2000s repeat themselves (Trends Repeat Every 20-30 Years, 2018). Researchers have studied the repetition of trends in hopes of finding out why certain styles repeat. So far, the leading theory is that styles repeat because younger generations recycle clothes that were flow down to them and from designers taking inspiration from those who are a part of older generations that they grew up with (Trends Repeat Every 20-30 Years 2018).
Furthermore, trends have varying spans of existence known as Fashion Cycles. Within each cycle, there are five stages. The first is the introduction stage that starts with the designer and other marketers introducing the style; the second stage is the rise, where consumers begin to purchase that clothing style. The third stage is when the style purchases at high rates to where it is so common. The fourth stage is known as the decline, and it is a decrease in consumption. Lastly, is the outdated stage where very few people are wearing the style anymore (Trends Repeat Every 20-30 Years 2018). The cycle length for every trend varies, and with the high usage of social media, they fluctuate rapidly.
Similar Posts –
Influence of Social Media
Social media and the media play an influential role in setting the trends that repeat. If you have ever looked through a social media site like Instagram, you may notice that numerous people wear similar styles. Likewise, if you ever looked closely at some of your favourite T.V. shows, you might recognize that some characters wear styles from different decades—for example, Monica Geller from the television show Friends. Monica consistently wears clothing from the 90s, such as her high-waisted jeans, dresses with pockets, and cropped sweaters (Konda, 2019). These types of media influences are what help and maintain the interest of trendsetting on a global scale. The use of social media is a heavy influencer on both identity and fashion. It can allow us to recognize our differences and connect with those that we share commonalities in both fashion and identity.
Fashion Today

Whether you are going against gender norms, wearing styles from 20 years ago, or creating your unique style, what you wear is your choice of presenting yourself. In both overt and covert ways, fashion has a way of bringing us all together. It is a way for us to tell our own stories, share our cultures, and engage in social interactions. It is the summation of your individualism and culture. Wearing more of one does not mean letting go of the other. That is, if you represent more of your individuality in your style, you can still hold on to garments from your culture and vice versa. Fashion as an industry and as your artistic freedom is constantly evolving but, what remains the same, is only an affirmation of our shared connection. As you continue to grow in your identities, so will your vegas pro torrent fashion; it may even happen before you recognize it. How you dressed when you were younger most likely is not how you dress now, although you may have similar artistic choices. And who knows, maybe your collective style will be the next fashion trend 20 years from licencia driver booster 8 now. Fashion can be what you make of it.
Works Cited
Adaptations to Western Styles. (n.d.). https://bit.ly/3AjLfP0
Fashion Trends Repeat Every 20-30 Years. DSN English. (n.d.). https://bit.ly/3h9eRH5
liamgriffin1. (2020, August 28). How Fashion Pressures Our Body Image and Sense of Self. Mindless Mag. https://bit.ly/3xbwxYs
Konda, S. (2019, July 31). Style secrets: Why do fashion trends repeat? Medium. https://bit.ly/2Tw6UTn
Raghuvanshi, kumar A. B. (2018, April 13). Clothing changes in Indian society in 19th – 20th century. invilaa. https://bit.ly/3we3bXQ Trends Repeat
Every 20-30 Years. The Polished Pearls. (2018, November 5). https://bit.ly/3ygK94A
Conformity Bias and Work Pressure: How pleasing others can ruin your unique Identity. Click here to read more.
Tags: Fashion, Individuality in Fashion, Nineteenth Century Fashion, Trendy repeats, Twenty-First Century Fashion,
---
---
Similar posts