The mental health of an
Olympic legend.

Simone Biles is the world's most recognized gymnast. And she just withdrew from the Tokyo 2020 Olympics to focus on her mental health.

Her departure remains a shocker to the Olympics, USA and the world. Unfortunately, a side of the media sees her decision as that of a quitter disregarding her mental health.

Simone, a five-time world gymnastics champion, a four-time Olympic gold medalist, and the first female athlete to perform the extraordinarily difficult Yurchenko double pike vault in a competition, could not have quit because she was not up to it.

Simone is at the peak of her career and expected to steamroll Tokyo 2020, improving upon her Rio 2016 feat, when she won four gold medals at a single game. And become the oldest woman in over five decades to win the Olympic all-around title.

However, when hiccups in her qualifying rounds became evident, Simone addressed the pressure on Instagram and said, "I truly do feel like I have the weight of the world on my shoulders … I know I brush it off … but damn sometimes it's hard hahaha! The Olympics is no joke!"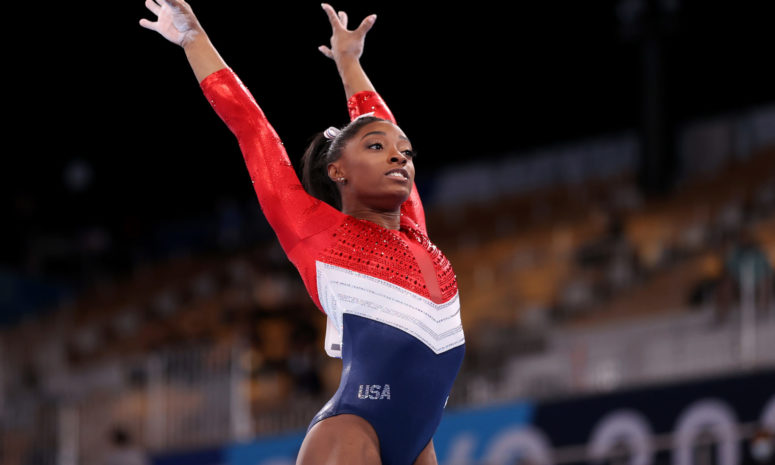 The mental health of the face of Tokyo 2020 Olympics.
Naomi Osaka is a prominent figure advocating for athletes to prioritize their mental health in sports. She is the inspiration for Simone Biles' prioritization of her mental health at the Tokyo Olympics.
She has been very open about her struggles with anxiety and depression. Which led her two months ago to withdraw from the French Open and Wimbledon Grand Slam events to focus on her mental health and personal life.
She also has a Netflix documentary released, focusing on her struggles in dealing with the newfound spotlight, the media and the pressure of an almost overnight success. And has written a TIME Magazine article on how "It's O.K. to not be O.K., and it's O.K. to talk about it".
In Tokyo 2020, she is the face of the Olympics. She lit the Olympic Cauldron flame at the opening ceremony.
Tokyo 2020 is her first time, representing her home country – Japan, on the biggest stage in a sport where she's dominant in.
Unfortunately, Naomi lost in the third round of the women's singles at the Olympics. And said this after her loss
"I definitely feel like there was a lot of pressure for this … because I haven't played in the Olympics before and for the first year (it) was a bit much."
Naomi's defeat can be linked with the pressure on her to win Japan an Olympic gold medal.
The mental weight of the Olympics.
The Olympics is no joke. Athletes get a chance once in four years to represent their country as a top athlete. They train, focus and dedicate their lives for four years with the single goal of attaining a medal.
The pressure they face is immerse, as they represent their country's pride. Their responsibility to win a medal, weighs heavily on athletes mental health.
Tokyo 2020 is even more peculiar than regular Olympics. The "2020" is not a typo. This competition was scheduled for last year. But, was postponed because of the outbreak of Covid-19.
Imagine the mental toll it takes when you have a career defining exam extended at the last minute, and you are left to prepare for it in the most bizarre of circumstances.
That is what all Olympic athletes face preparing for Tokyo 2020, amidst a global lockdown.
With great expectations' comes great responsibility. Athletes are expected to bear that responsibility, but at what cost?
Are top athletes suppose to overcome physically and mentally odds?
Not all the time. No, they should not be expected to always overcome hurdles.
Athletes do the incredible, but they should not be expected to always overcome physical and mental hurdles.
Kerri Strug a USA gymnast at Atalanta 1996, could only stand on one leg and had to nurse a broken ankle, to win a gold medal.
James 'Buster' Douglas in 1990 fought against the heavyweight champion Mike Tyson and won. A high point in the world of boxing, but a low point in his life, as his mother passed away weeks before the big fight.
Bert Trautman, a Manchester City goalkeeper, broke his neck during the 1956 FA Cup final against Birmingham City and continued playing till the final whistle.
These examples can be seen as unforgettable moments of determination despite hurdles. As instances of when the weight of country, team and life was upon them, these athletes persevered.
But they did not need to. They are not machines, they might be superhuman athletes, but they are still human.
Simone Biles has overcome both mental and physical hurdles
Simone has been competing at the highest level since 2013. And continued to compete at an even higher level, despite going through the traumatic experience of being sexually assaulted by former USA gymnast doctor – Larry Nassar.
At the 2018 world championships, she competed with a kidney stone, won the Olympics all-around and won medals, on every single event.
This year, she has been competing with an ankle injury and been under enormous media pressure. However, she has continued to perform well and qualified to every single final in gymnastics for the Olympics.
Mental Health Positivity
Simone Biles, prioritization of her mental health at Tokyo Olympics, is justified. Athletes need not destroy themselves mentally to meet our standards regarding them as top-level athletes.
Simone's admission to her mental health challenges is a heroic decision. She and Naomi, are eradicating the stigma against mental health discussions in the highest levels of competitions.
All athletes are human first and peak human performance second. "Sports require so much mental strength that an athlete's physical well-being is undoubtedly in jeopardy if they are unable to show up as their best self" (Megan Reyes)
Anxiety and depression can affect everyone. So prioritize your mental wellbeing, look out to support those around you and love yourself. We are only human.
Tags: Mental Health, Naomi Osaka, Olympics, Simone Biles, Tokyo 2020, Tokyo 2020 Olympics, USA gymnastics,
---
---
Similar posts