Emiliano Martinez hero of Copa América. A story about luck and perseverance.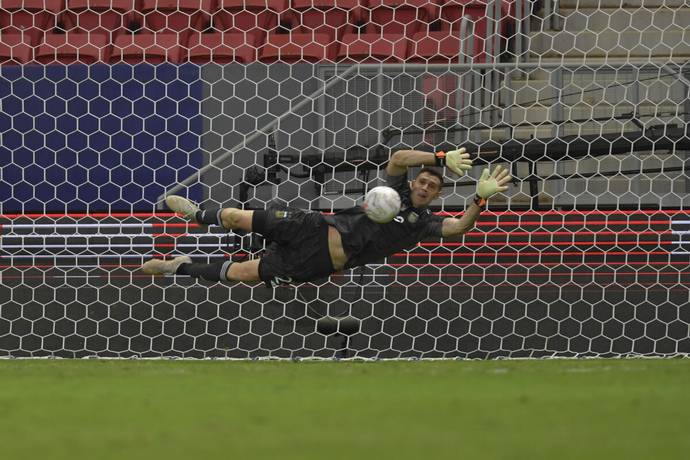 Hero of Copa América
The story of Emiliano Martinez, hero of Copa América, kicks off with the Argentinian soccer team, ending a 28-year streak without an international trophy, by defeating Brazil 1-0 to claim the Copa América trophy.
Argentina's winning campaign had trademark performances from household names like Messi and Di Maria. And an unlikely hero who saved Argentina's advancement into the Copa América finals.
His name is Emiliano Martinez hero of Copa América. And this is his phoenix from the ashes story.
The Copa América semi-finals between Argentina & Colombia tied 1-1. Meaning, the winner of the match would be decided through penalty shoot-outs.
In football, a penalty shoot-out is an unfair 1 v 1 duel and the likelihood that a goalkeeper saves it is a low 15% chance.
For Emiliano Martinez, the unlikeliness was stacked high. He had little international experience, and it was a high profile semi-final match, so his nerves would be high.
"All professional athletes overcome significant statistical odds, to outlast legions of competitors to carve out a career in sport" (Stejskal, 2021).

(https://theathletic.com/)Matt Turner's strange, fortuitous path to the USMNT.
But, he "was phenomenal" (Lionel Messi), saving three out of five penalties, securing Argentina a place in the Copa América finals.
After the competition ended, he was awarded the Golden Glove for being the best goalkeeper in the tournament.
The role of "luck" and opportunities
There is a saying that,
"Luck is what happens when preparation meets opportunity".

Seneca, Roman Statesman
Before Emiliano Martinez became the hero of Copa América on the international stage, he was a goalkeeper that struggled to start in matches.
Because of the competitive nature of football, Martinez was hardly lucky enough to prove himself, but when the opportunities in life presented themselves. He maximized those opportunities.
The sequence of events that led to his prominence seems like happenstance, but it is not. It was his preparation on the sidelines that made him competent to take the chances when they arrived.
Hero of Copa América rise to prominence
His story begins with joining the Buenos Aires Football Club – Independiente, as a youth player, after failed attempts to join the two most popular teams in Argentina (Boca Juniors and River Plate).
Despite not making it into the popular teams, his performances in Independiente got him recognized to represent Argentina's under-17 for the 2009 World Cup.
In the 2009 World Cup, Argentina's under-17 team underperformed, but Martinez's performance caught Arsenal F.C's eyes.
Arsenal signed him in 2010. But before he left Argentina, he promised his father to become the first choice goalkeeper in Arsenal.
And life in Arsenal and England ought to have kick-started Martinez's career to a new level.
But that was not the case for seventeen-year-old Martinez, as he found it very difficult to break into the Arsenal first-team. And after 10 years of being an Arsenal player, Martinez had only 14 first-team appearances before 2020.
In a regular English football season, a football club plays at least 40 matches so, if a player has been selected to play the average amount of matches over 10-years.
That player would have at least 200 first-team appearances, significantly higher than Martinez's total appearances before 2020.
Instead, of a lack of consecutive matches to deter Martinez. It had the opposite effect. Each loan move Martinez took, and every first-team opportunity granted, was used to improve himself.
The Hero's renaissance
And in June 2020, his luck stuck, his opportunity arose. First choice goalkeeper for Arsenal, Bernd Leno, sustained an injury that ruled him out for the rest of the season. And with Martinez as a second-choice goalkeeper, he had to fill in for the injured first-choice goalkeeper.
Martinez grabbed this opportunity. He grabbed it faster than goalkeepers hanging onto lopsided crosses aimed at their gloves.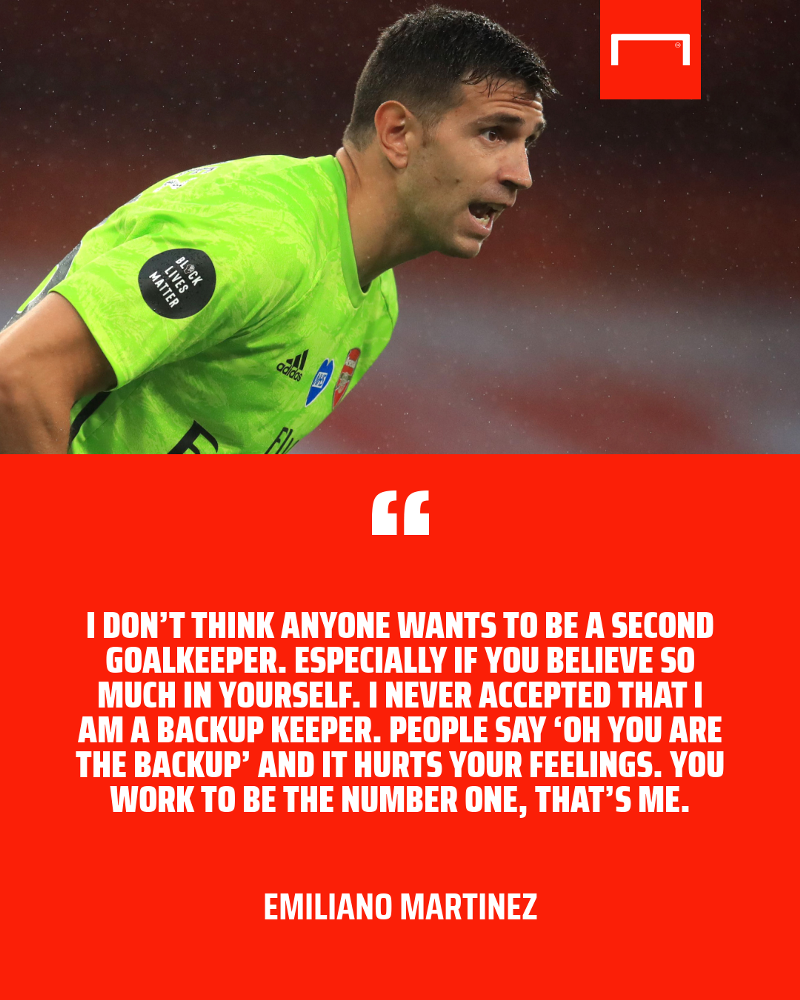 And week in and out, he produced standout performances match after match, ending the season with 9 clean sheets from 21 games. He was also integral to Arsenal winning two trophies in 2020 – the FA Cup and Community Shield.
His outstanding performance at Arsenal raised eyebrows as he left the coach with a headache of which goalkeepers to rely upon when the first-choice goalkeeper recovered from injury.
In September 2020, Aston Villa signed Martinez, making him their first-choice goalkeeper. And the most expensive Argentine goalkeeper in history.
The much improved Martinez finished the season by going 15 games without conceding a goal, reaching the club record of clean sheets, and the 3rd highest for goalkeepers in the English Premier League 2020/2021.
His second stroke of luck came when La Albiceleste, first-choice keeper – Franco Armani, tested positive for coronavirus, ruling him out of Copa América.
That occurrence allowed Martinez to prove his worth. And prove his worth he did. As a child, Martinez had not seen Argentina lift an international football trophy. 28 years later, Emiliano Martinez became integral to winning the Copa América trophy.
The harder we work, the luckier we get.
This article chronicles how a goalkeeper once regraded as surplus became integral to the success of his local and international teams.
Emiliano Martinez got two opportunities to prove himself in his career of over 11 years. And he could make a name for himself out of those opportunities.
Opportunities in life are random, and a key part of living actively, living with a purpose, is maximizing opportunities.
If a person is not prepared or if Martinez was not prepared, his contenders got injured or sick. Then he would not have attained his dream of being No 1.
A key takeaway from his story is that the more we train ourselves to be prepared, the more we realize that a lucky scenario is to be treated as a granted opportunity.
Similar Posts
TOP 10 MOST INSPIRING ATHLETES OF ALL TIME. Click here to read the full post.
FROM RAGS TO RICHES, THE IRISH PRODIGY, CONOR MCGREGOR HAS TRANSFORMED THE UFC. Click here to read the full post.
Tags: Argentina, Copa America 2021, Emiliano Martinez, football, La Albiceleste, messi, soccer,
---
---
Similar posts