Do you start your day with alcohol or other drugs? Do you feel isolated and disconnected from the rest of the world? You feel the need to change but can't because you feel stuck. Addiction and substance abuse are life-threatening. It causes one to become incapable and mentally paralysed—your perception of reality changes. You stop seeing the world as it is, but as you project it. Dealing with addiction is tricky but not impossible. Take control of your life now before it fades away.
Are you dealing with Addiction?
Addiction is an unhealthy attachment with substances (drugs or alcohol) and activities that cause harm at its core. It is the loss of control over substances or behaviour.
If you find yourself or a loved one heavily addicted to an activity, such as smoking, gambling, sex, pornography, social media, or shopping, you may be dealing with addiction. As an addict, you have no control over your life and are completely powerless.
If you use something knowing it harms you but continue to use it anyway, you are abusing it. Substance abuse refers to using alcohol and drugs to the extent that it overpowers your body and knocks you off your senses. It rewires your brain to depend upon substances heavily. Our focus in this article will be on the abuse and dependence on substances (drugs and alcohol).
Types of Addiction
There are two significant types of Addiction: Behavioral and Substance Addiction.
Behavioural Addiction: Gambling, gaming, pornography, etc. are all things that people quickly become addicted to which eventually leads to uncontrolled behaviours.
Substance Addiction: Using drugs (such as Heroin, Cocaine, Marijuana, Weed, etc.) or alcohol for a long time, whether by injecting them or orally consuming them.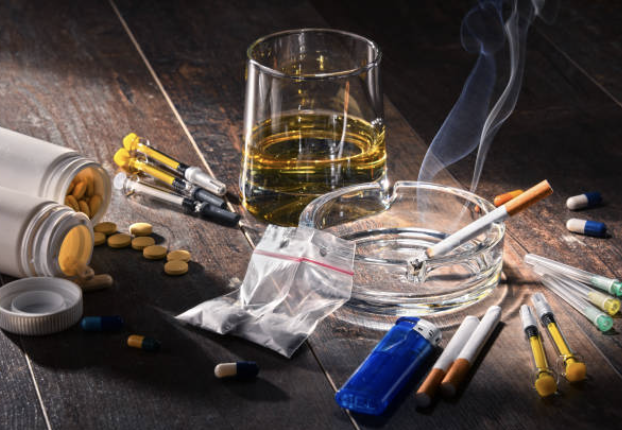 Signs you are dealing with Addiction:
Here are five major signs to watch out for if you or your loved one is addicted:
1) Isolation– It is a desire to remain distant from others.
2) Sudden disinterest in work or other activities– Losing interest in the things that you normally do for a prolonged period.
3) Health Deterioration– The first signs of addiction are usually physical: weakness, weight loss, bloodshot eyes.
4) Changes in Behaviour– The signs of addiction are anger, irritability, anxiety, lying, and stealing.
5) Decline in Finances-Constant consumption of drugs would incur higher costs since drugs are expensive. If you have noticed a decline in your finances and are unsure of its cause, pay closer attention.
6) Neglecting Physical Appearance– You start neglecting your hygiene and refuse to dress nicely and keep yourself groomed. This results in your physical appearance and attitude becoming shabby and uncared for.
Stages of Addiction:
The American Society of Addiction describes addiction as a chronic brain disease. It affects the reward, pleasure, memory, and motivation systems of the brain.
There are four stages of Addiction:
1) Experimentation: It often starts by unknowingly or knowingly consuming substances (drugs or alcohol) either for fun or pleasure. You think it's a one-time event, but it might open the way for something worse.
2) Frequent Use and Abuse: When a person starts to depend upon the substance for emotional support, they can no longer function normally. Individuals use these drugs to boost their mood.
3) Dependency and Tolerance: The advanced stage in which the person becomes physically and psychologically dependent upon the substance. As a result, the brain stops releasing chemicals, requiring drugs to function correctly. Eventually, it controls the person's brain and drives them to misbehave.
4) Addiction: The person is now entirely influenced by the substances consumed. This person loses their identity and spends most of their time getting high. In such a state, they usually lose track of reality.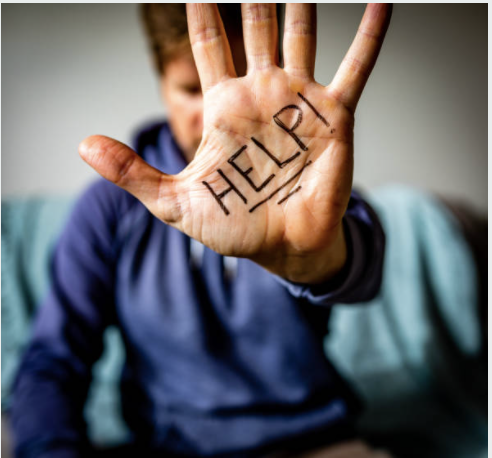 Dealing with Addiction in a better way
Usually, the first step in recovery from addiction is the most difficult. Recognising and accepting that you have an addiction requires great mental strength. After all, substance abuse and addiction happen in seconds, but recovery can take a lifetime.
Be willing to receive help– Once you have accepted that you have an addiction, you must prepare your mind to seek help immediately. Do not wait; act now!!
2. Seek help from a person you trust– It is crucial to get help from someone who knows you well, such as a close friend or family member. Please do not be embarrassed about sharing information with them.
3. Focus on the change– Create a list of the things you care about that have been put on hold because of your addiction. Your primary focus must be on your kids, pets, family, career, and health. Change for their sake if not for your own.
Treatments for dealing with Addiction:
Detoxification- Detoxification (or medical detox) is the first step in treating withdrawal symptoms, and it helps rid your body of the substance.
2. Counselling and Mental Health Therapies- Following detoxification, the most common treatment is counselling and Cognitive Behavioural Therapy, which helps better cope with your life after addiction.
Long-Term Treatments
Inpatient Rehab– A person with chronic symptoms will receive 24/7 medical care and reside in a drug-free facility during Inpatient rehab.
2. Outpatient Rehab– During Outpatient rehab, patients stay at home but need to attend therapy sessions as scheduled. However, this treatment is for people with mild symptoms.
3. Sober Living Homes– These homes link an inpatient treatment centre and the return to everyday life. The program is for people who need additional support before returning to their daily lives.
Conclusion
Addiction in any form is bound to push you to the point of no return. You believe you are climbing up and soaring high, but you are falling off a cliff in reality. Although substance abuse increases dopamine levels in the brain, it also drains your life and drowns you to the extreme depths of addiction. Furthermore, it leads to the loss of family, career, and most importantly, life. If you know someone who struggles with addiction, try to help them while listening carefully to what they have to say. Let them know they are not alone. Various organisations operate 24/7 helplines where they provide guidance and support. Don't hesitate to get in touch with them if need be.
Furthermore, here are a few helplines to contact:
The National Drug Helpline– 1-844-289-0879
Partnership for Drug-Free Kids– 1-855-378-4373 (Parents can reach out to this service for assistance in dealing with children's addiction issues)
References: https://bit.ly/3pjIFoe, https://bit.ly/3K05pRU, https://bit.ly/3vmoudi
Tags: Addiction, Addiction and Substance Abuse, Dealing with Addiction, Mental Health, youth mental health,
---
---
Similar posts