Wimbledon 2021: It´s Getting Harder to Pick Favourites.
By: Jose Rivas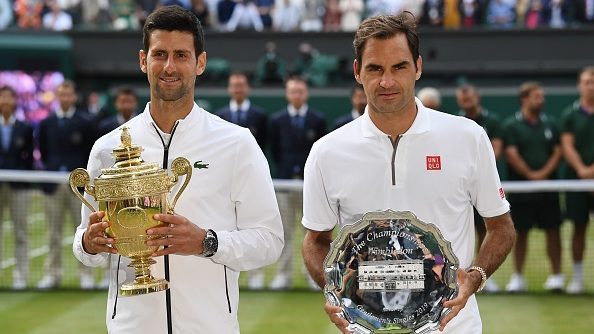 Wimbledon 2021 is expecting a cloudy weekend for this stage of the tournament

Wimbledon 2021 is expecting a hazy weekend for the current stage of the tournament. Wimbledon is a Grand Slam, organized by the All-England Lawn Tennis and Croquet Club. It is located In London, England, and has been celebrated since 1877.

Wimbledon 2021 started its 134th edition on June 28th. It is, also, the 3rd Grand Slam tournament of the year. They cancelled their 2020 edition due to COVID-19 restrictions. This had only happened once, during World War II.

This year, Sebastian Korda has been someone to put our eyes on. He has been breaking milestones in his breakout year one after another. His last one being scheduling one of his matches on the main court for the first time. He will be playing against Daniel Evans. Evans started as one of the seeded in the tournament and is currently number 22 on the ranking.

Korda has won so far two matches in Wimbledon 2021, as a first-timer. This could improve his ranking to the 50th position.


Clash Between Titans

Another match scheduled for the Center Court is Andy Murray against Denis Shapovalov. Murray, from England, is a two-time champion and currently ranked as 118th. On the other hand, Shapovalov, Canadian, is currently ranking at number 10.

The number one player in the ranking, the Serbian Novak Djokovic, is going to play against Denis Kudla, a veteran ranked 114th.

As far as the women´s categories, only three of the eleven highest ranked players made it to the third round of Wimbledon 2021.

Number 2 and seeded, Aryna Sabalenka, will be playing against María Camila Osorio Serrano. This will happen on Sabalenka´s first time playing on around 32.

On the other hand, Number 7, Iga Swiatek, from Poland, will be playing against Romania´s Irina-Camelia Begu.

Another person to put our eyes on has been Taylor Fritz. The United States player left the French Open in a wheelchair and proceeded to get knee surgery. All of this, less than a month ago. All odds against him, he has been able to get back to a Grand Slam, and not only that, he has been able to get to the third round at Wimbledon 2021 as well.
Fritz gets to the third round, a month after leaving the French Open in a wheelchair and receiving knee surgery.

Fritz will be playing against a favourite now, Roger Federer, in hopes of a spot in the fourth round. This will be Federer´s last Grand Slam before turning 40.

Just like this, Wimbledon 2021, begins its final round. With cloudy weather and light rain forecasts and players fighting to move forward on the tournament.
RAFAEL BENÍTEZ JOINS EVERTON AS MANAGER. Click here to read the full article.
Tags: Aryna Sabalenka, Daniel Evans, Denis Kudla, Denis Shapovalo, Maria Camila Osorio Serrano, Novak Djokovic, Sebastian Korda, Wimbledon 2021,
---
---
Similar posts