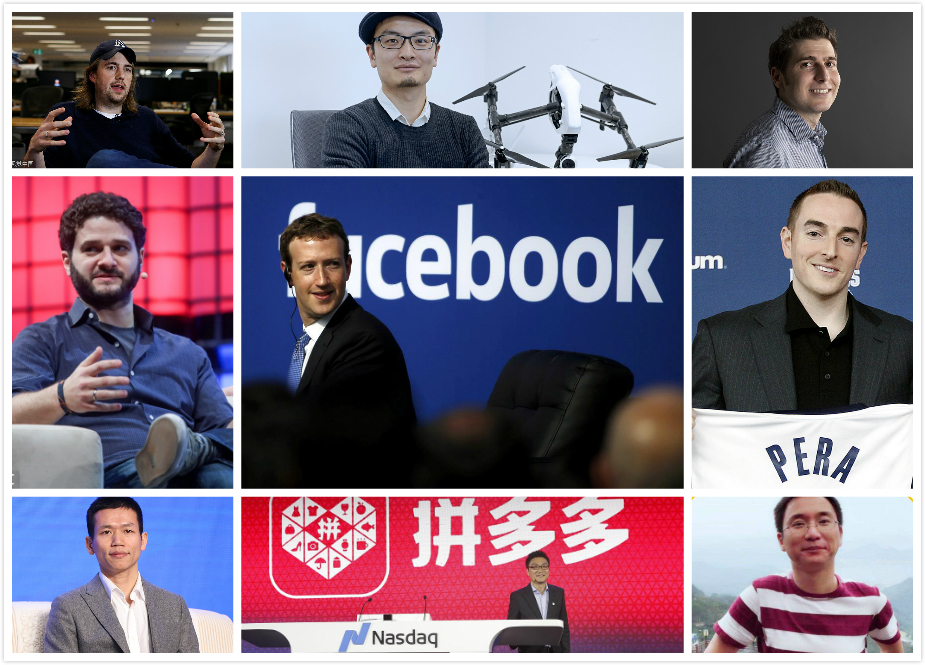 Here Are The Top 15 Youngest Self-made Billionaires in The World
Self-made Billionaires are not born every day! They are forged by pain, persistence, perseverance, and prowess. Every person in this world has dreamt of becoming a billionaire at least once in their lifetime. But the path to becoming a billionaire is not a cakewalk. It takes effort and time to reach there. This proves true in the case of all self-made billionaires who defy odds in their race to the top. The Mexican Business magnate, Carlos Slim, once said, "Building a business and becoming a billionaire is not a championship. It's the competence; The competence in your sector with other companies not looking to have some records in the issue." Here are the 15 youngest self-made billionaires of 2021 –
Austin Russell (26)
NET WORTH: $2.4 BILLION
SOURCE OF WEALTH: AUTONOMOUS CAR TECH
COUNTRY: UNITED STATES
The CEO and founder of Luminar Technologies is one of the newest self-made billionaires in the block. IN 2012, Russell dropped out of Stanford after getting a $100,000 Thiel Fellowship to start his company. Luminar Technologies makes sensors and other parts for Autonomous vehicles. He is one of the very few to have amassed such wealth from the field of self-propelled cars. The market value of Russell's company is approximately $7.8 billion.
"It has been incredibly intense, exhausting… Everything that we have had to go through every day, climbing this. And of course, it is incredibly rewarding to have the opportunity to go out now and enter the public markets and scale through this IPO SPAC," Russell told Forbes in a video interview from his office in Palo Alto, California. "I am still relatively young, but… there has been a lot of blood, sweat and tears in this. And I was lucky to be able to keep a good enough turnout."
Even before becoming a billionaire, Austin has many notable achievements. According to his profile by Forbes, he memorised the whole periodic table in 2 years. As a sixth-grader, he connected his Nintendo console to his phone. At the young age of 13, he filed for his first patent. He had invented a groundwater recycling system, which reduces water wastage by collecting water from sprinklers.
Unlike his contemporaries, as a teen, he spent his time at the University of California at the Irvine Beckman Laser Institute, doing research. No wonder his efforts have led him to become a billionaire before the age of 30, a feat very few people can achieve.
2. Andy Fang (28)
NET WORTH: $2 BILLION
SOURCE OF WEALTH: DOORDASH
COUNTRY: UNITED STATES
Andy Fang is the co-founder of the food delivery DoorDash and is one of the two self-made billionaires on this list from the company. The Chinese-American tech entrepreneur has a degree in Computer Science from Stanford University. As of 2019 data, DoorDash has expanded to almost 4000 cities and offers its customer services from a selection of 340,000 stores across Canada and the United States.
Fang is the CTO and leads the engineering team. He is responsible for the overall production and technological vision. He started the company with his friends as a student at Stanford, intending to empower local restaurants and food chains.
Similar Post –
3. Stanley Tang (28)
NET WORTH: $2 BILLION
SOURCE OF WEALTH: DOORDASH
COUNTRY: UNITED STATES
Along with Andy Fang, Stanley Tang is also one of the founders of DoorDash. He is the Chief Product Officer and Head of the labs at DoorDash. This self-made billionaire grew up in Hong Kong. By the age of 14, he was an Amazon best-seller author of the book "EMillions."
He met Andy Fang at Stanford University, where his journey started. He also invests in a lot of start-ups. In 2019, he founded the Bearcat Content, in partnership with Gloria Zhu, which funds in creating unscripted content, documentaries and new media start-ups.
4. Sam Bankman-Fried (29)
NET WORTH: $8.7 BILLION
SOURCE OF WEALTH: CRYPTO TRADING
COUNTRY: UNITED STATES
Sam Bankman-Fried is one of the smartest self-made billionaires on this list. He hails from California, is an MIT graduate and a former trader at Wall Street ETF. He launched his trading firm, Alameda Research, in 2017. He has built the world's fastest-growing crypto derivative asset exchange platform, FTX. FTX has a policy of donating 1% of its revenue.
His goal is to make as much money as possible to donate as much as he can. He was the highest donor for Joe Biden's presidential campaign in 2020. He follows the Effective altruism and Utilitarianism philosophies in his operations.
True to his beliefs, and despite his billionaire stature, Bankman-Fried follows a very millennial-like lifestyle. He describes himself as a workaholic and spends most of his nights at the office.
5. Ritesh Agarwal (27)
NET WORTH: $1.1 BILLION (as of February 2020)
SOURCE OF WEALTH: HOTEL NETWORK
COUNTRY: INDIA
Next on our list is Ritesh Agarwal, the CEO and Founder of OYO Rooms. OYO rooms are a network of almost 2,200 hotels operating in 154 cities across India. The monthly revenue from this disruptive hospitality business and app is estimated to be around $3.5 million. He is also one of the youngest self-made billionaires on this list.
After he dropped out of college, he was selected as a recipient of the Thiel Fellowship in 2013. At the moment, he is claimed to be the world's second-youngest billionaire of 2021. However, Forbes has not listed Agrawal as a billionaire yet.
6. Evan Spiegel (31)
NET WORTH: 13 BILLION
SOURCE OF WEALTH: SOCIAL MEDIA COMPANY
COUNTRY: UNITED STATES
Entering next in our self-made billionaire's list is none other than Evan Spiegal. He became a billionaire at the age of 25. In 2011, along with his Stanford University fraternity brother, Bobby Murphy, he started Snapchat. Snapchat is one of the most widely used social media apps, and every day millions of people use the platform.
What makes Snapchat unrivalled from the likes of Facebook and Twitter is the fact that the messages disappear after they are read. Spiegel himself said, "there is real value in sharing moments that don't live forever."
It's remarkable that Snapchat has not lost its essence even after years, i.e., its basis of non-permanent pictures. Evan Spiegel has been quoted as saying: "One day you are online, you log in and realise: This isn't me. Everything you put on the internet is based on what you previously put on the internet. Let's delete everything. Save what's really important. So, all you need to is organise the 1% that is worth saving."
7. John Collison (30)
NET WORTH: $9.5 BILLION
SOURCE: SaaS COMPANY
COUNTRY: IRELAND
John Collison, the co-founder and President of Stripe, joined the world's youngest self-made billionaires club as the youngest member at the age of 27. He dropped out of Harvard to make a tech start-up that changed the way people make online payments. Collison started the company with his brother, Patrick.
Similar Post –
8. Bobby Murphy (32)
NET WORTH: $14 BILLION
SOURCE: SOCIAL MEDIA COMPANY
COUNTRY: UNITED STATES
The co-founder of Snapchat, Bobby Murphy, together with Evan Speigel, own more than 30% of Snap Inc. He oversees the overall engineering and product development of the company. This self-made billionaire has invested more than $30 million in real-estate near places like Pacific Palisades and Venice Beach.
Since the launch of Snapchat, Murphy has kept a low profile, unlike his partner. Therefore, very less is known about him. "I'd describe him almost like a monk," Snapchat's first hire, David Kravitz, told Forbes in 2014. "I don't think I've ever seen him upset. This makes him one of the kindest self-made billionaires on this list.
9. Pavel Durov
NET WORTH: $17.2 BILLION
SOURCE: MESSAGING APP
COUNTRY: RUSSIA
Self-made billionaire Pavel Durov started his journey with VKontakte, Russia's biggest social network. This earned him the name Russia's Zukerberg. He had to face a lot of hurdles to reach this feat.
The Russian government constantly demanded more power over VKontakte, but Durov was not going to bow. In 2011, he sent the photo of a dog, sticking its tongue out, in a hoodie, in response.
But he gradually lost control due to some investors linked to Kremlin and was even raided. Luckily he had a backup plan, a secret project in the US. Thus, when the police raided the VKontakte office, he was not in the country. He, with his brother and a trusted few employees, flew to the United States.
His secret project was Telegram, an encrypted messaging app. The encryption in Telegram makes it difficult for governments to spy on the users.
10. Dustin Moskovitz (37)
NET WORTH: $24.8 BILLION
SOURCE: SOCIAL MEDIA AND SOCIAL NETWORKING SERVICE
COUNTRY: UNITED STATES
This American entrepreneur became the youngest self-made billionaire in history, according to his 2.34% shares in Facebook. He helped his then Harvard roommate, Mark Zuckerberg, to launch Facebook. "When we founded Facebook, we put a lot of hours into it and worked hard every day. The Social Network (movie) painted this picture that we were partying all the time, when really we only attended 2 or 3 parties during Facebook's first year," told Dustin to TechCrunch.
But he left Facebook in 2008 and went on to co-found, Asana with Justin Rosenstein. "We left Facebook because we had an idea. We looked for every reason to stay [at Facebook]. I didn't want to be an entrepreneur. But the idea was so strong, and we became so passionate about it," he says.
11. Nathan Blecharczyk (38)
NET WORTH: $10.4 BILLION
SOURCE: ROOM AND HOME RENTAL COMPANY
COUNTRY: UNITED STATES
In 2008, this self-made billionaire co-founded Airbnb. Airbnb is a peer to peer, room and home rental company. As of now, Airbnb operates in over 100,000 cities in 191 countries. He is the chairman of Airbnb China.
Previously, he worked in Microsoft, as a product manager, along with his former roommate and co-founder of Airbnb, Joe Gebbia. He led the company's expansion into Cuba in 2015 successfully.
12. Peng Guoyuan (34)
NET WORTH: 2.6 BILLION
SOURCE: EDUCATION GROUP
COUNTRY: CHINA
Peng Guoyuan is a self-made billionaire from China. He is the chairman and founder of NWY, which is an education firm.
13. Yiming Zhang (37)
NET WORTH: $35.7 BILLION
SOURCE: MEDIA CONTENT PLATFORM
COUNTRY: CHINA
Yiming Zhang is the co-founder and CEO of ByteDance, one of China's largest media content platforms. ByteDance is the parent company of the famous news app, Tautiao and the social video app TikTok.
According to a 2020 CNBC report, TikTok passed Instagram as the second most popular app among teens, after Snapchat in the US. He is listed as the 13th wealthiest person in China. Zhang's leadership style is "soft-spoken yet charismatic, logical yet passionate, young yet wise," according to Time Magazine's Kai-Fu Lee.
"For a very long time, I was merely watching TikTok videos without making any of them myself, because it's a product mainly for young people," Zhang said, according to the South China Morning Post. "But later on, we made it compulsory for all management team members to make their own TikTok videos, and they must win a certain number of 'likes'. Otherwise, they have to do push-ups. It was a big step for me." Said Zhang, who himself makes TikTok videos.
14. Nikhil Kamath (34)
NET WORTH: $1.7 BILLION
SOURCE: TRADING BROKERAGE
COUNTRY: INDIA
From being just a school dropout at the age of 14, to become the youngest self-made billionaire, along with his brother, Nikhil Kamath, has come a long way. "No one was going to hire me without a college degree, which meant I had to do something which didn't require one," he says.
As a teenager, he started trading, along with his brother. "The problem back in the day, I'm talking about 11 or 12 years ago, is cost was very high. Brokerage fees were incredibly high in India," Kamath said. "And for a full-time trader, there were many barricades or barriers one had to cross before he could actually be profitable in any consistent kind of manner."
Thus, the brothers got to work and put all their savings into creating, Zerodha, India's biggest stock brokerage platform. Being a billionaire at 34, you would think could have changed things for Nikhil. "Becoming a billionaire doesn't change that–I still work 85% of the day & live with the insecurity of, 'What if it's taken from me?'" he told Official humans of Bombay.
15. Nick Molnar (30)
NET WORTH: 1.8 BILLION
SOURCE: FINTECH COMPANY
COUNTRY: AUSTRALIA
Nick Molnar became the youngest self-made billionaire of Australia, as the co-founder and co-CEO of Afterpay. It is a payment platform that breaks up the cost of users' purchases into interest-free instalments.
Before Afterpay, he was Australia's top jewellery seller on eBay. Afterpay expanded to the United States in 2018 and has nearly 5.6 million active users. The pandemic surges the Afterpay stock prices to 1300% at the Australian stock exchange.
"Anthony, my co-founder, and I made a rule very early on that we wouldn't watch the share price. Sometimes the share price goes up and down, I don't think it means we're an any better or worse business over those periods of time," said Molnar.
(Please Note – This list does not include the young billionaires who have inherited fortune)
Similar articles –
ALIBABA STOCK PRICES: GOLDEN OPPORTUNITY FOR LONG-TERM INVESTORS. Click here to read the full article.
Tags: Andy Fang, Austin Russell, Bobby Murphy, Dustin Moskovitz, Evan Spiegal, John Collison, Nathan Blecharczyk, Nick Molnar, Nikhil Kamath, Pavel Durav, Peng Guoyuan, Ritesh Agarwal, Sam Bankman-Fried, Stanley Tang, Yiming Zhang, Youngest Billionaires, Youngest Self-made Billionaires, Youngest Self-made Billionaires 2021,
---
---
Similar posts