How Selena remains influential 26 years after her death
By: Jay Moreno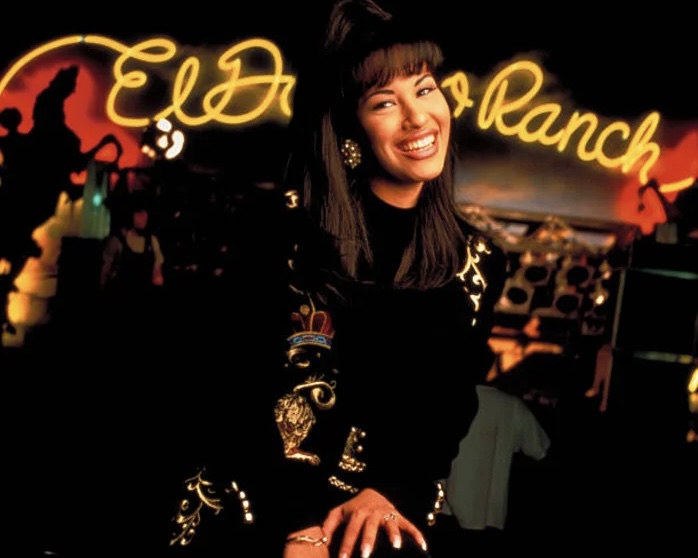 Within the past two decades, Tejano music sensation Selena has continued to be influential in the years following her tragic 1995 murder. Despite her death 26 years ago, Selena remains impactful as her legacy has lived on in various ways.
Who is Selena and how is she influential?
Born April 16, 1971 in Lake Jackson, Texas, Tejano singer Selena Quintanilla-Perez had her vocal talent discovered at a young age. Noticing her vocal gift, her father started a band named Selena Y Los Dinos. Selena served as the lead singer, while her siblings A.B. and Suzette played bass guitar and drums, respectively. As other members joined over time, the band toured across Texas, though were often rejected or booed due to Selena being female in a male-dominated genre. After financial difficulties, the family moved to Corpus Christi, Texas and later got their big break in 1989 as the first act signed to EMI Latin Records.
Over the next few years, Selena became a star with hit songs such as "Baila Esta Cumbia," "Como La Flor," "La Carcacha," "Amor Prohibido" and "Bidi Bidi Bom Bom." She dominated the Tejano Music Awards, winning Female Vocalist of the Year nine consecutive times. In addition, she also won a Grammy Award in 1994 for her Live! album, which won Best Mexican American Album. She continued to break barriers throughout her career, becoming the most successful Tejano artist, often referred to as the "queen" of the genre.
Sadly, Selena's life came to an end when she was shot and killed by fan club president Yolanda Saldívar on March 31, 1995. She was only 23 years old. Months after her death, Saldívar was convicted of first-degree murder and sentenced to life in prison. Despite her tragic death, Selena's influence continued to inspire generations to come.
Similar Post –
Selena being an influential fashion and beauty icon
Aside from being a successful singer, Selena also had a passion for fashion. Since childhood, she drew sketches of outfits she wanted to design and wear, some of which considered ahead of its time. Her on-stage outfits typically consisted of sparkly bustiers, which she would sometimes design backstage before performances. Because of her clothing and performance style, she was often called the "Mexican Madonna," as she was influenced by the pop singer's fashion and choreography. Her stage outfits, such as the purple jumpsuit she wore while performing to over 66,000 people at the Houston Astrodome in 1995, are considered iconic. It is also a common costume during Halloween season and for drag queens impersonating the Tejano star.
Besides being a fashion icon, Selena also became influential in beauty. Favoring heavy red lipstick, fans would emulate her beauty regimen and looks. While most famous people hire makeup artists, Selena preferred to do her own makeup. 21 years after her death, MAC Cosmetics released a Selena makeup line, which became their best selling celebrity collaboration. In 1994, she opened two fashion boutiques and salons named Selena Etc. in Corpus Christi and San Antonio, Texas. The stores sold clothings designed by Selena and her designer collaborators, and offered salon services such as haircuts, manicures and pedicures. Following her death, her husband and sister took charge of the stores, though eventually closed both locations in the following years.
How Selena was influential in philanthropy
When away from the stage, Selena was very involved in giving back to local communities. A spokesperson for the D.A.R.E program, she persuaded the youth to stay away from drugs and alcohol. She was passionate about the importance of staying in school, often visiting speaking at Texas schools encouraging students to do so. In addition, she recorded a commercial for a battered women's hotline encouraging them to report the abuse. When the commercial would air, the phone lines would often get busy. Because of these matters, she became a role model for the youth and women. Many have and continued to look up to Selena as influential to their lives.
In honor of her community contributions, former Houston mayor Bob Lanier proclaimed April 8, 1994 as "Selena Quintanilla Day." She would also hold benefit concerts, where she would donate ticket proceeds to non-profit organizations or relief funds. Weeks before her death, she recorded a cover of "A Boy Like That" for The Songs of West Side Story, a compilation album of cover songs from the popular musical. Proceeds of the album benefitted AIDS Project Los Angeles (APLA).
Similar Post –
Selena was humble and was a positive influence for fans
Despite achieving success, fame and fortune, Selena never let those matters get to her head. Despite making millions of dollars, she and husband Chris Perez resided in a suburban home next door to her parents in Corpus Christi. Many claimed Selena didn't realize how famous she was, as she considered herself a normal person. She even worried people wouldn't attend her shows, despite packed venues. Many found her to be down to earth, often pursuing random acts of kindness.
As Selena herself and most of her fans were minorities (Hispanic-Latinos), she was seen as the voice of their community. She encouraged them to follow their dreams and to not let anyone stop them from achieving their goals. She remained accessible to fans, never refusing a request to take a photo or sign an autograph. According to former backup singer Pete Astudillo, Selena would always "find a compliment" to say to fans.
"If you have a dream, don't let anybody take it away, and always believe that the impossible is always possible," Selena said in a 1994 interview.
If she was still alive, she would've accomplished much more
Many Selena fans believe if it weren't for the singer's death, she would've succeeded a lot further. In late 1994, she began recording a crossover English-language album to appeal to the mainstream pop market. She only recorded four songs, leaving the album incomplete due to her murder. Those songs, remixed previously recorded songs and unreleased Spanish songs were released under the album title Dreaming of You in July 1995. The album topped the U.S. Billboard 200 albums chart, selling over 331,000 copies in its first week. Had she completed the album, fans predict she would've been as successful as Madonna and Janet Jackson, two of Selena's biggest influences. Aside from singing, she would've also succeeded in other career aspects such as fashion and acting, the latter of which Selena eventually aspired to do.
Selena's death had a huge impact on Latino populations
When Selena's death was the top news story on March 31, 1995, many in the Latino community were heartbroken. Fans left shrines in many places, such as Selena's home and boutiques, as well as the hotel where she was shot. Various candlelight vigils and masses occurred in her hometown and cities such as San Antonio, Houston and Los Angeles. Two days after her death, thousands of fans attended an open casket viewing in her hometown to grieve and pay their last respects. Tejano music's popularity even declined significantly, as many believe it died with Selena.
In contrast, many non-Hispanic populations were unaware of Selena and did not understand the constant coverage. They began to feel an overexposure of news surrounding the star's death, believing they should let the singer rest in peace. This created a racial divide between Hispanic and Anglo-Americans, as the latter group believed Selena's death was not that important. Many Anglo-Americans even wrote their frustrations to various newspapers and magazines about the excessive coverage of Selena. Controversially, comedian and radio host Howard Stern mocked Selena's death and Spanish-language music overall, playing gunshots over one of her songs on his radio show, The Howard Stern Show. This offended many Mexican-Americans, boycotting his show and calling for its cancellation. Stern eventually issued an apology in Spanish.
Similar Post –
How Selena continues to influence new generations posthumously
Over two decades after Selena's death, she has managed to make an impact on newer generations. Her legacy has continued to stay alive through various ways. In 1997, the Selena biopic based on her life premiered, with Jennifer Lopez in the title role. It became her breakout role, boosting her career and encouraging her to pursue music alongside acting. In 2020, Selena: The Series premiered on Netflix, with The Walking Dead star Christian Serratos portraying Selena. Despite mixed reviews, the limited series earned 25 million household viewers. The film and television projects based on Selena's life introduced new generations of fans previously unfamiliar with her.
The same year of the film's release, a monumental bronze statue was created, overlooking the Corpus Christi Bay. It garners approximately 30,000 fans annually. In addition, the Selena Museum opened in 1998 on the headquarters of her family company Q Productions. The museum consists of outfits worn by the star, awards and other personal items of Selena's. In 2015, the Fiesta de la Flor festival commenced in her honor. The festival brought in various Spanish-language music acts with fans across the nation and other countries in attendance.
In present day, Selena continues to inspire many across the nation, including non-Hispanic populations. Many honor the star in several ways, whether it be artwork, murals, performances, and more. Selena remains influential and her legacy remains very much alive.
Headline photo courtesy of Pam Francis.
Similar Posts –
10 TV SHOWS WITH PORTRAYALS OF MENTAL ILLNESS. Click here to read the full post.
CELEBRITY MENTAL HEALTH: CELEBRITIES WHO HAVE REVEALED THEIR MENTAL HEALTH STRUGGLES. Click here to read the full post.
Tags: hispanic, influence, influential, latin, latino, mexican-american, selena, selena quintanilla, selena quintanilla-perez, tejano music,
---
---
Similar posts