Alibaba stock prices: Golden opportunity for long-term investors.
By: Sherly J. Victor
Downturn in Alibaba stock prices: Is it worth it to risk it all ? Yes, it is.
Jack Ma's Alibaba is under much political fire. It has resulted in the Alibaba (BABA) stock prices facing a significant downturn. The stocks reached an incredible high of $320 per share only last year, and now their share prices have dropped down to nearly 50% off from the all-time-high. At a conference in Shanghai, Jack Ma publicly denounced the Chinese financial regulators. On top of that, the business magnate went missing shortly. It resulted in a further decline in Alibaba stock prices.
What is happening?
Alibaba stock prices have been taking a beat since the start of this year. A significant reason for this is the Chinese antitrust fine imposed on the e-commerce giant. In the fourth quarter, BABA faced a net loss of $836 million, owing to the enormous antitrust fine of nearly $2.7 billion.
The fine was implemented because the authorities claimed that the company had abused its monopolised position. They accused of indulging in "Er Xuan Yi", which means "choose one of two." It means that Ma's firm is forcing the merchants in the platform to sell exclusively on their site or face the consequences for not complying with their say.
The Chinese authorities are seemingly on a spree of regulatory micro-scoping, the tech companies in the country. It has spooked the Chinese internet stock investors. And hence, is leading to a significant sell-off. "The government would like to send an unambiguous message to all of these tech conglomerates that it's the government who is in charge," said Mark Natkin, managing director of Beijing-based industry research firm Marbridge Consulting. "Any notion otherwise ultimately won't be tolerated."
Will Alibaba stock prices conquer the battle?
Although the Alibaba stock prices are on an all-new-low, they will survive. BABA stocks are way superior, owing to their expected growth. But, there is no denying that there are no potential risks. A significant risk is China's antitrust delicate push, which can jeopardize the company's profit and potential growth. But it can thrive even through some more fines.
How?
Alibaba's short-handed competitors
Alibaba is often known for China's Amazon. But both the companies have a significant difference, which puts Alibaba in a much favourable position. Alibaba mainly deals in 'wholesale e-commerce with its business clients.
E-commerce giants like Amazon and eBay have a B to C, i.e., Business to Consumer, sales model. At the same time, Alibaba's primary income is from B to B, i.e., Business to Business sales. However, that does not mean that they only stick to a particular model and do not vice versa. For example, Amazon focuses on finished goods, whereas Alibaba has even raw commodities on its platforms to bring in bulk.
EBay offers a 'buy and sell' type of service, and Alibaba has AliExpress, a separate platform. But what makes the difference is the geographical focus. eBay is based and focuses mainly on US consumers. Whereas AliExpress focuses on Chinese, Russian and Brazilian markets. So, there is no overlap or scope for competition. Many e-commerce vendors buy products in bulk from Alibaba at a lower price. They then sell it on other platforms like Amazon, gaining profit from the price difference.
Numbers show a different picture
The below table shows Alibaba's revenue, profit and margins for the year 2020 –
| | | |
| --- | --- | --- |
| | Fourth Quarter | Yearly |
| Revenue | $28.6 billion (up 64%) | $109 billion |
| Income | $-1.1 billion | $22 billion |
| Operational Cashflow | $3.6 billion | $35 billion |
Therefore, even implementing a hefty fine colossal fine of $2.7 billion in the fourth quarter, the e-commerce giant managed to pull through with a bit of growth in its net income. According to Seeking Alpha Quant, BABA has grown revenue by 47% CAGR (Compound Annual Growth Rate) over the last five years and net income by 16%. So, assume that it continues to receive the same 16% growth every year in future. The numbers look like this –
| | |
| --- | --- |
| 2022 | $25.52 billion |
| 2023 | $29.6 billion |
| 2024 | $34.3 billion |
| 2025 | $39 billion |
| 2026 | $46 billion |
(These numbers are hypothetical but not impossible for such a big company. For a company as big as Alibaba, 16% profit is easily doable)
Alibaba earnings forecast for the next 10 years –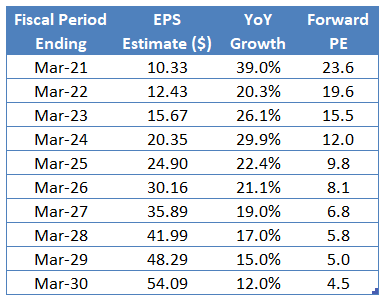 Like every investment, there are potential risks. What are they?
China's growing antitrust regulations and actions
China's changing relationship and politics with other countries, especially the USA
Alibaba's core e-commerce business is a success even in the pandemic, but the same is not the case for its other side businesses. The other businesses lost money and remained underdog compared to only the e-commerce website being the cash cow.
In Conclusion –
To end with, BABA's stocks have much potential in future on a growth basis. It can absorb more fines and still spring higher. China's economy expects to become the world's largest economy by 2028. Thus, Alibaba as a monopoly will experience lots of growth from individuals and businesses, putting their money on it. Also, no one can Denise that Alibaba holds the dominance in cloud services in all of China. So, China will not quickly kill its revenue and economy-boosting machine so easily and give up its chance at distinction.
Tags: Alibaba, Alibaba stock prices, Alibaba stocks, Business, Stock Market,
---
---
Similar posts